Grassroots Judo
---
The leaders of Grassroots Judo™ are the Presidents, the Executive Directors, and the Legal Counsels of the USJA and the USJF. Our aim is to grow Judo and enable people to contribute to society. We are the organizations of choice for coaches and students to train in the fundamentals of "big" Judo. [Judo spelled with a big "J" means the holistic contribution of Judo to society. Judo spelled with a little "j" is the sport and recreational (technical) aspects of judo]. We hope to facilitate a way for the most skilled and talented instructors, competitors, coaches, and referees in the country to give back to judo through the USJA and USJF.
2017 USJA / USJF Grassroots Judo Special Needs Championships - Ramona High School
---
Date
SATURDAY March 25th, 2017
Location
Ramona High School
7675 Magnolia Avenue
Riverside, CA 92504
Eligibility
This Tournament is open to All Developmentally Disabled Competitors. Developmental Disabilities include (but are not limited to) Autism Spectrum Disorder, Cerebral Palsy, Downs Syndrome, CHARGE Syndrome, Intellectual Disability, Dystonia, and Tuberous Sclerosis. Contestants must be a current member of USJA, USJF, or USJI (USA Judo) with proof of membership.
Registration Packet:
click here
8th Annual Summer Nationals - West Palm Beach, FL July 6-9, 2017
---
Dates:
July 6-9, 2017
Registration and Weigh In: July 6, 2017
Competition: Juniors, July 7 & 8 - Seniors, July 9
Palm Beach Convention Center
650 Okeechobee Blvd, West Palm Beach, FL 33401
Head Quarter Hotel: Hilton West Palm Beach
600 Okeechobee Blvd, West Palm Beach, FL 33401
Book room early to get Judo Rate $115 + tax
To make reservations:
Hilton West Palm Beach (561) 231-6000
or
https://aws.passkey.com/event/15692897/owner/14106173/home
Discount code: ZJUD
Website: www.JudoUS.com



12th Annual Winter Nationals in Los Angeles, CA December 9, 2017
with coach & referee clinics on December 8
---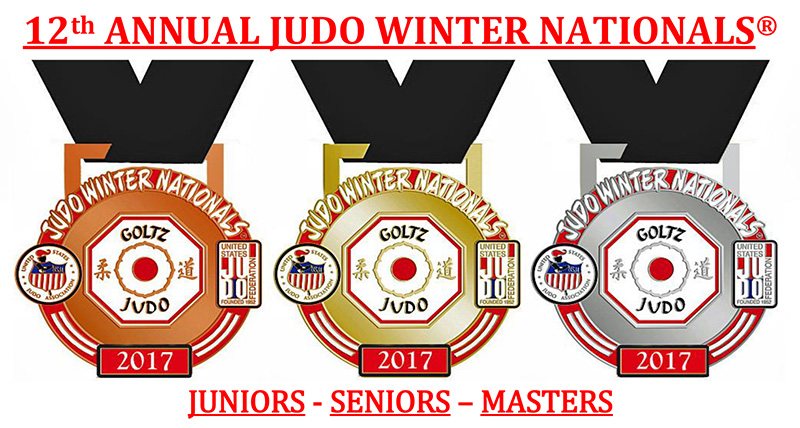 This premier annual event held in greater Los Angeles early December is endorsed by the USJA/USJF Grassroots Judo™ alliance and is hosted by Goltz Judo. In addition to the national tournament for all age groups and skill levels, clinics are held on coaching, kata, refereeing, and just about anything pertaining to the study of judo. Preregistration includes a free souvenir t-shirt. Judo celebrities such as Ronda Rousey, Kayla Harrison, Israel Hernandez, Jimmy Pedro, Gene LeBell, Jim Bregman, Hayward Nishioka, Jin Iizumi, Hal Sharp, and many more are often on hand to provide insights, sign books, autographs, take selfies, and more.
Website
:
www.judowinternationals.com
Registration Packet
:
click here
---
I Future Grassroots Judo™ Events
July 7 – 9 (Fri/Sat/Sun) 2017 – USJA/USJF Junior Nationals, Palm Beach, FL
July 6 – 8 (Fri/Sat/Sun) 2018 – USJF/USJA Junior Nationals, Open for Bid *
July 5 – 7 (Fri/Sat/Sun) 2019 – USJA/USJF Junior Nationals, Open for Bid **

* - (Interested parties please contact Robert Fukuda at the USJF)
** - (Interested parties please contact Marc Cohen at the USJA)

II Grassroots Judo™ Core Values
Perfection of the human character
Mutual benefit and welfare
Maximum efficiency with minimum effort

III Grassroots Judo™ Core Purposes & Objectives
Introduction: Introduce the concepts of Judo/judo a larger segment of the US
Growth: Overcome the current stagnation of Judo in the United States and build an opportunity for all to participate in judo
Marketing: Have an active outreach program to perpetuate the benefits of Judo to the American society as a whole
Education: Disseminate the latest and greatest ideas about the sport
Financial Stability: Attract project sponsor and donors

IV Grassroots Judo™ Value Proposition

V Grassroots Judo™ Benefits of Judo
Self-awareness – what you are capable of doing and not doing
Confidence
Physical Fitness
Development of core skills that can also be used in other sports
Self-protection (ukemi – no fear of falling) and self-defense
Youth and adult growth and development
Development of a recognized community and social network

VI Current Grassroots Judo™ Joint USJF/USJA Tournaments
Grassroots Judo™ Junior Nationals
Grassroots Judo™ Winter Nationals
Grassroots Judo™ High School Championships
Grassroots Judo™ AM-CAN International

VII Grassroots Judo™ Event Endorsement Criterion
The event must be sanctioned by USJF or USJA (except if international with USA Judo prior approval)
The event must be national or regional in the scope
The review will be based past event history and must tie into the Grassroots Judo™ objectives
The review for event endorsement will be conducted by the leaders of Grassroots Judo™
The leaders of Grassroots Judo™ reserve the right to deny participation of any individual

Videos of Past Grassroots Judo™ Events by Chris Mitsuoka
Junior Nationals 2013 in Pittsburgh
Winter Nationals 2012 in Los Angeles – Seniors
Winter Nationals 2012 in Los Angeles – Juniors